On November 7th, David Stockman and Mike Pence appeared on This Week with Christiane Amanpour to debate tax cuts. David Stockman was a budget director for President Ronald Reagan and Mike Pence is a Congressman and has been the Chairman of the House Republican Conference for the past two years. A video of the tax cut debate can be found on the
This Week website
and a transcript can be found at
this link
. Following is an excerpt from that transcript:

PENCE: Before we get -- look, David Stockman is, you know, he's a really famous guy and a thoughtful guy. I just disagree with him vehemently and I, frankly, have for about 30 years. David believes that every tax increase equals a revenue increase, but that's not true. Anybody who is familiar with the historical data from the IRS knows that raising income tax rates will likely actually reduce federal revenues.

AMANPOUR: Let me ask David...

PENCE: So if we raise taxes, the American people are very likely going to -- the top 1 percent are going to send less money to Washington, D.C., and that will never get us out of this...

(CROSSTALK)

STOCKMAN: I just have to respectfully disagree. You will have some loss of revenue because some activity or transactions won't happen, but if you raise taxes on paper by $100 billion, maybe you'll get $90 billion or $85 billion. But it's just common sense fact that, when you raise the rates, you get more revenue. Normally, it's a bad thing to do. But we are in such dire shape that we have no choice but to accept the negative trade-off of some harm to the economy to start paying our bills. Otherwise, we're dependent on the Chinese, we're dependent on OPEC, we're dependent on a bunch of hedge fund guys to buy our debt, and this game is about over.

Pence states that "raising income tax rates will likely actually reduce federal revenues". This is in reference to the proposal to let all or part of the Bush tax cuts expire at the end of this year. The logical companion to this argument is the old supply-side claim that tax cuts increase revenues above what they would have been otherwise. I have looked at this argument and posted an analysis of it at
this link
. I could find nothing in the actual numbers to support this claim. In fact, I have asked supply-siders for years to provide the link to one credible economic study that purports to give evidence that supports this claim. As of yet, I have received none.
So far, every economic study that I have found that addresses the issue refutes the claim that tax cuts increase revenue. For example, there is a study titled "Dynamic Scoring: A Back-of-the-Envelope Guide" that was done by N. Gregory Mankiw and Matthew Weinzier. Mankiw was the chairman of President Bush's Council of Economic Advisors from 2003 to 2005. You can find a summary of the study at
this link
. It gives the following key quote at the top:

"In the long run, about 17 percent of a cut in labor taxes is recouped through higher economic growth. The comparable figure for a cut in capital taxes is about 50 percent."

This pretty much agrees with Stockman's statement that 10 or 15 percent of the revenue expected from a tax increase might be lost due to a decrease in activity or transactions. Both Stockman's statement and the quote above agree with the usual concept that a cut in the tax rate will lose that same percentage of revenue but that some of that loss will be recouped by higher economic growth. However, there are additional effects of tax cuts, negative as well as positive. Following is an excerpt from page 115 of the book "The Coming Generational Storm", co-written by economist Laurence Kotlikoff:

...For tax cuts to raise revenues, pretax labor earnings have to rise by a larger percentage than the tax rate falls.

There are two competing forces at play in determining whether pretax earning rise, stay the same, or fall. On the one hand, workers may say to themselves, "Boy, now that taxes are lower, I can work less and still receive the same after tax pay. I'm going to cut back my workweek." On the other hand, they may say, "Boy, now's a good time to work more and earn more because taxes are lower on every extra dollar I earn". Economists call the first of these reactions the income effect. They call the second reaction, the substitution or incentive effect.

Some of the best labor economists in the country have spent their lifetimes measuring the income and substitution effects. The broad consensus of these experts is that the two effects are roughly offsetting. This means that if wage tax rates are cut by, say 15 percent, tax revenues will fall by 15 percent.

Similarly, there are studies that suggest that certain tax increases can actually promote an increase in economic growth. An example is a study titled
"The Macroeconomic Effects of Tax Changes: Estimates Based on a New Measure of Fiscal Shocks"
by Christina and David Romer. Christina Romer recently resigned as the chairwoman of President Obama's Council of Economic Advisers but will become a member of the President's Economic Recovery Advisory Board. The study found that "deficit-driven tax increases" have had a positive effect on economic growth. The following excerpt from page 14 describes these increases:

The figure makes clear that while deficit-driven tax increases have occurred throughout the postwar era, they were most prevalent in the early and mid-1980s. Many of these deficit-driven tax actions were related to Social Security: of the 26 actions in the category, 15 were designed to deal with the long-run solvency of the Social Security system. The Social Security Amendments of 1977 and 1983, in particular, were major tax actions that raised taxes in a number of steps and did not simultaneously increase benefits. The largest deficit-driven tax increases not related to Social Security were those contained in the Tax Equity and Fiscal Responsibility Tax Act of 1982, and the Omnibus Budget Reconciliation Acts of 1987, 1990, and 1993. The first two of these were Reagan-era measures; the third was the Bush tax increase that defied his famous "Read my lips: no new taxes" campaign speech; and the fourth was the Rubinomics-defining tax increase of the early Clinton administration.

The following graph from page 59 shows the estimated impact of a tax increase of 1% of GDP on GDP using long-run and deficit-driven tax changes: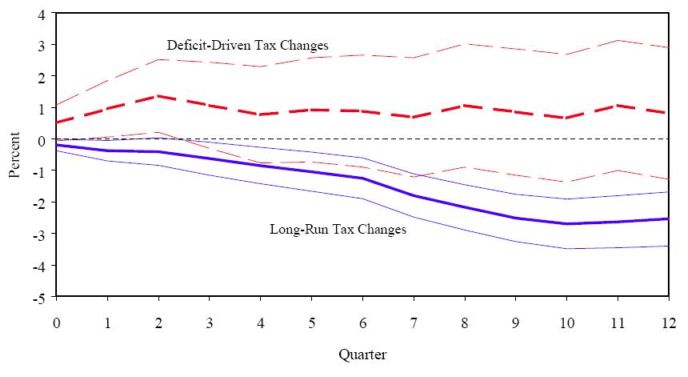 The following excerpt from page 23 refers to this figure:

Panel (b) of Figure 6 shows the results for the two types of exogenous changes. For long-run changes, which make up most of this category, the results are quite similar to those for all exogenous changes. For tax increases to deal with an inherited budget deficit, the results are more interesting. The point estimates imply that output does not fall at all following deficit-driven tax increases. The estimated effect peaks at 1.4 percent after two quarters, and then fluctuates around 1 percent. However, there are too few tax changes of this type for the effects to be estimated very precisely. The maximum t-statistic, for example, is just 1.2. Nonetheless, the estimates are suggestive that tax increases to reduce an inherited deficit may be less costly than other tax increases, and they provide no evidence that they have substantial output costs.

The following excerpt from page 38 summarizes these effects:

In Section III, we found that the responses of real GDP to the two subcategories of exogenous tax changes appear to be quite different. The response to a long-run tax increase is negative, large, and highly statistically significant. In contrast, the response to a deficit-driven tax increase is positive, though not significant.

Finally, the following excerpt from the conclusions on page 41 expands on this positive effect:

Finally, we find suggestive evidence that tax increases to reduce an inherited budget deficit do not have the large output costs associated with other exogenous tax increases. This is consistent with the idea that deficit-driven tax increases may have important expansionary effects through expectations and long-term interest rates, or through confidence.

As I mentioned, I am yet to find a single economic study that purports to show evidence that any income tax cut has ever paid for itself. If anyone who reads this should know of one, please leave a comment with a link to that study. Thanks.